Welcome to Anata,
In the heart of Megève, come and enjoy an Omakase menu and discover the Japanese tradition around an intimate, friendly and gastronomic counter (12 seats) facing the kitchen.
Anata offer
Menu signature
From 150 ro 230 Euros – depending on sitting, season and products
Specials
New Year's Day, Christmas, Valentine's Day
On demand
Cellar
A fine selection of wines and sakes is available on site (around 150 references). You can also choose wines from our "350 references" wine list – on request, 24 hours in advance.
Catering and Take-Away
Coming soon
The counter can be reserved for private use.
Opening Times
Open all year round. Opening dates to come.
For lunch, sitting starts for the whole counter at 12:30 (possibility of arriving 30 minutes before).
For dinner, sitting starts for the entire counter at 8.45pm (possibility of arriving 45 minutes before).
It was during a professional opportunity in Japan that chef Julien Gatillon was able to confirm his interest in the techniques, products and values of this gastronomic culture.
What's more, his extensive experience at the Domaine du Mont d'Arbois and then the Four Seasons Megève enabled him to recruit and work with KAITO chefs Yohan Delhommeau and Keiji Ishii.
The latter, in search of entrepreneurship, were delighted to sign up to this new 100% Japanese concept.
Keiji Ishii 
Japanese at heart and from his roots, Keiji learned the culinary tradition from reknown sushi masters.
The emotions he has retained from this experience should be shared with the various customers he has met during his career, particularly as sushi chef at the KAITO restaurant, Four Seasons Megève.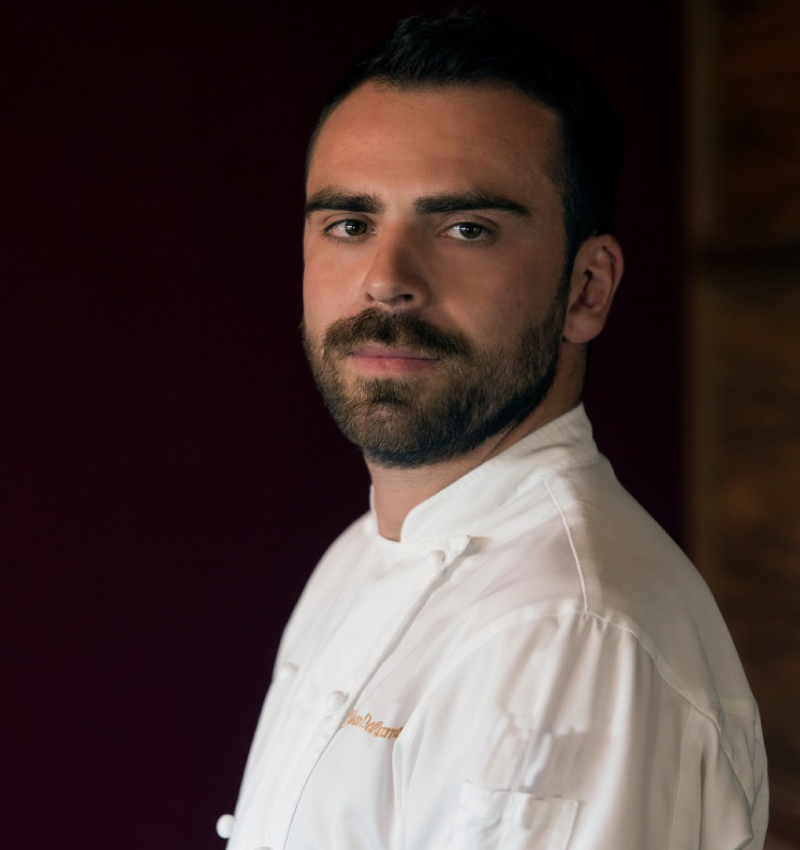 Yohan is the grandson of a hotelier and a farmer, he grew up with a desire to discover the treasures of different culinary and human traditions.
After having worked in some of France's great institutions, including Paul Bocuse and Claude Legras, he decided to invest in and perfect his knowledge of Japanese cuisine, particularly following his experience with chef Mitsuru Tsukada.
The culture, rigour and respect for this culinary vision seemed to him to be an obvious professional choice.
His most recent experience as chef of the KAITO restaurant at the Four Seasons Megève makes him an ally behind the ANATA counter.
In order to welcome you in the best conditions and given the particular format of our restaurant, a gastronomic counter offering a unique menu, all first contact or booking requests must be made either by telephone or via the form below.
Bookings can be made three months before the desired date. If you are placed on a waiting list, your table will be confirmed at least 10 days before the date.
We will get back to you as soon as possible.
Special conditions
One menu for the entire counter (except allergens announced in advance).
We do not offer a vegetarian menu.
Children are welcome from the age of 15 (we do not offer a children's menu).
Our restaurant offers a gastronomic menu where diners taste each dish simultaneously (the start time of the sitting is therefore imposed, see the offer).
For your convenience, we only have one sitting per meal.
ANATA
36 Rue Saint François
74120 Megève
+33 6 59 55 95 83
Open all year round
Lunch from noon, single sitting at 12.30 p.m.
Dinner from 7.45pm, single sitting at 8.45pm